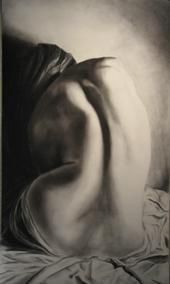 Lauren Jane LMT, owner of Chi Chair Massage is a graduate of Florida College of Natural Health, skilled in Swedish, Sports, Deep Tissue work with training in Reflexology, Shiatsu, Acupressure, Hydrotherapy, Russian Sports, and Cranial Sacral Massage modalities. She has been in the Central Florida area for the past five years working as an artist and has now combined her two loves into one. Lauren's art can be seen online on Facebook at Lauren Jane Art .Her profound respect for the human body can be seen both in the attention to detail in her art of the human figure and on the table as she carefully uses her artistic touch to bring relaxation to your muscles.
Lauren's goal is to bring a sense of peace, tranquility and fufillment to the body, mind and soul through her work.
Policies: Sexual jokes, innuendo, comments, behavior will not be tolerated on any level. If any sexual impropriety takes place before, during or after the session, the session will end immediatly, the client will be charged the full price, and will not be allowed to book future appointments.